The extended Bearman family, which has served CJFS for decades in leadership, volunteer and professional roles will be honored at Hands Up Together 2022. The event on Tuesday, April 26th, will recognize Suzanne and Howard Bearman, daughters Sheri Krell and Michelle Bearman-Wolnek and sons-in-law Jimmy Krell and Seth Wolnek.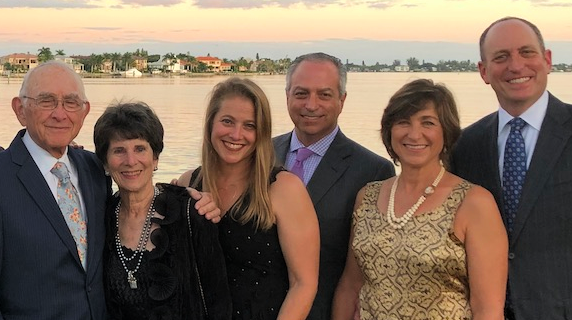 "Suzanne Bearman served as our agency's president at a critical time in 1991 and '92, when CJFS had just welcomed more than 100 Jewish refugees to Birmingham from the former Soviet Union" said CJFS Executive Director Lauren Schwartz. "Suzanne led a broad community effort to help those immigrants learn a new language, adapt to a new culture, find employment and so much more, and that was just the beginning of this family's involvement."
Years later, Michelle joined the agency's staff as a social worker providing counseling, community outreach, education and tornado relief. Michelle later served on the CJFS Board of Directors, and she was Board President in 2019 and 2020. Both Seth and Jimmy also served on the Board, and in 2015, Jimmy co-chaired the "Min Halev: From the Heart" endowment campaign, which met its goal of boosting the CJFS endowment to $5 million.
In 2019, Sheri was named CJFS Volunteer of the Year, recognizing the many hundreds of hours she has devoted to such diverse tasks as delivering produce boxes to low-income senior housing communities, coordinating volunteer activities for teenagers and older adults, assisting with mailings, helping clients shop and run errands, and volunteering at the CJFS CARES dementia respite program.
"The services and care provided by CJFS go hand in hand with the involvement, time, and love which the Bearmans, Krells, and Wolneks have devoted to our community for decades," said Susan Lapidus, who is co-chairing the event with CJFS Board Member David Romanoff.
Michelle recalled as a child asking her mother why she devoted so much time to the agency then known as Jewish Family Services. "She would say it was important, to make our community a better place, important enough to leave us. It made me realize that this organization was really special."
Please join us on Tuesday, April 26 at 5:30pm for Hands Up Together 2022, as we honor this special family and their years of service to CJFS. This year's event will be held at The Farrell , a beautiful new venue in downtown Homewood. There will be a jazz trio, a magician performing throughout the crowd and plenty of drinks and delicious appetizers. Tickets will go on sale Tuesday, March 1.
If you are interested in becoming a sponsor of Hands Up Together 2022, contact Development Director, Clay Ratcliffe at 205-879-3438 or clay@cjfsbham.org